Precast + Foam: An Architectural Match Made in Heaven
Credit: Original article published here.
When precast concrete products are used for infrastructure projects, the ability to customize the shape, size and strength gives engineers and contractors the flexibility they need to tackle tough challenges. When a material with so much potential is put in the hands of architects, functionality gives way to beauty, and the results are visually stunning.
Precast is employed by top architects around the world who customize its angles, colors and finishes, and employ flourishes such as unique exposed aggregate or reliefs, to realize their designs. One example of this is a relationship between Omega Concrete of Kansas City and ACH Foam Technologies that has led to many beautiful products.
Complex, intricate shapes cast in concrete require equally complex and intricate forming. The form and design need to be able to withstand the pressures concrete exerts as it's poured and cured as well as leave a clean inlay once the concrete is removed. Omega relies on ACH to determine the proper foam thickness and density, the layout of the cuts, and how the foam is stacked and secured.
Working with ACH, Omega is able to create curved arches, etched lettering, and realistic logos for commercial projects of every sort. As part of a 40,000-square-foot expansion of a college dormitory they developed panels that incorporated arches within arches, multi-directional bands, and a cross insignia.  A recent project found them collaborating to create a chestnut tree sculpted in relief. Multiple thin cuts required to create the outer edges of the tree were combined with a layering effect to add artistic depth and create a memorable entrance to an elementary school.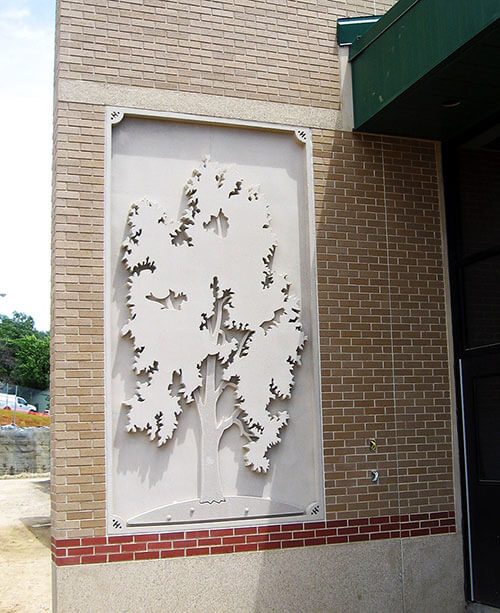 Foam is a common component in precast concrete plants while manufacturing insulated wall panels or underground structures requiring blockouts. By using it to create intricate architectural wall panels, precasters are opening the door to another tremendous opportunity to use the two materials together to create the perfect solution for the end customer.